---
Customer Reviews
01/12/2022
Awesome !
This was great. Purchased for my boyfriend so he wouldn't be super bored all the time and he loves it !
Nora C.

United States
10/18/2021
Perfect experience
Even after making the mistake of putting the wrong shipping address I was immediately contacted back and fixed the error. Once my footbag arrived it came with a receipt with a handwritten thank you on it(nice touch). The bag itself is amazing to play with and I've already seen improvements with myself and my friends while using the better bag.
Mitchell D.

United States
10/03/2021
These are great
Well made and durable
Reuben S.

United States
09/18/2021
Pheeww...
Simple but amazing sack...great stitching...me and my boys have some epic games w our new player Showdower...lol ..a must try
Thomas R.

United States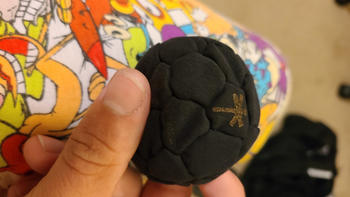 08/26/2021
Love it
I've never had a sandbag before. All my friends and I always got the braded ones with plastic beads. I got a new friend who only used sandbags and it changed my world.
Anthony K.

United States