---
Customer Reviews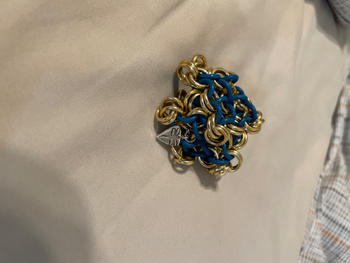 03/17/2022
Way better than expected
I have never used chain mail footbags so my expectations were low, but the rubber rings really give it a nice pop. I love it. Probably will get more color ways, now
Mark G.

United States
03/05/2022
Chainmail book bag.
Absolutely fantastic design very good in my opinion for beginners and I've been playing for 20 years the design is much more forgiving than the traditional foot bag.
DEAN E.

United States
03/05/2022
Awesomeness
This bag is super fun to play with, and it glows!
brody M.

United States
09/14/2021
All I hoped and more
Great! They shipped and arrived within 4 days, including a weekend. Quality is stellar, it looks amazing, and so far can take anything I've thrown at it (or thrown it at lol). Also, bonus function of being a fidget, which is a lifesaver for me. Will be collecting all of them!
Mitch N.

United States
09/09/2021
Had one of these years ago, lost it bc a hole in pocket!
So glad to have another one of these again... right out the bag the pop is like a bouncy ball but I remember it will still take a couple hits until its broken in. Love these because you don't really have to worry about where its gonna land,washing, it or tearing it, can be played in the rain or the snow. With summer coming to an end I find myself skateboarding less and less and hacking more and more!
Zeric

United States