---
Customer Reviews
09/27/2021
Just what I wanted.
I love this Footbag. Simple yet effective, very good control and easy to do so.
Patrick M.

United States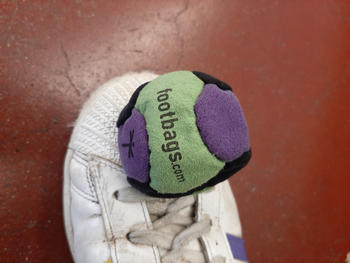 09/23/2021
Best bag I've had!
I love this bag. It makes for easier stalls. And I have so much more control. My favorite bag!
Greg M.

United States
09/19/2021
Great bag, received in days
Bag looks and feels great.
Jameson G.

United States
09/15/2021
Great bag!
Just as the description states, this footbag is the perfect balance of stall and pop. The metal filling makes it quite heavier than a dirtbag, which actually makes it much easier to control and hit reliably. At the same time, the weight and the looseness of the bag allows easy stalling. Great for an all-around player!
Jason M.

United States
09/14/2021
Bravo Six, going Dark
Great, soft texture and just the right amount of pop when we go to pass it, or play Kills. Broke our circle record almost immediately, with the added bonus of having the best looking bag in the ring.
Mitch N.

United States